We upcycle!
We have collected 82,000 juice pouches!! Amazing!
We are collecting all brands of empty juice bags during lunch time in the cafeteria. Straws may be left in the pouch. There is a marked blue garbage can with a slot where they can be inserted. (See below)

JUICE POUCHES ONLY!
Many classes are also collecting pouches during snack time in their classrooms. Children can help by drinking all of the juice in the pouch and removing the plastic straw wrapper and placing the straw wrapper into the trash.
Before shipping to Terracycle, each juice pouch has the inside bottom seam slit. They are then rinsed out with water in order to avoid attracting "critters" while they await shipment. When they are dry, they are counted into packs of 25 bags and packed for free shipment. If parents collect pouches at home, it would be helpful if they could be washed and dried before sending them to school. However, this is certainly not required. When sending wet pouches to school, please do not add any other items we collect to the bag. Coke tops, Box Tops for Education and Campbell Soup labels go to the PTO and the last two are unusable when they get wet.
We have shipped over 70,000 pouches. Terracycle will give Maple Hill $0.02 for each 0.009lbs of eligible drink pouches. They sew the bags into cool tote bags, backpacks and pencil bags. For more info, check out their web site.
http://www.terracycle.net/
We are also collecting empty Lunchables trays in a box next to the blue bin.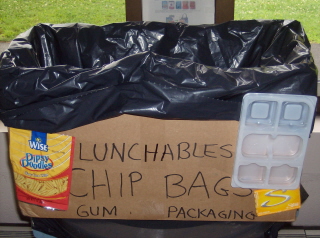 Lunchable trays and plastic covers,
chip bags and gum wrapping
We are collecting lunch kits such as: Basics, Fun Packs, Completes and Value Twin Packs.
To date, Maple Hill has earned $1922.35 from Terracycle for our brigades.
We will collect any brand or size chip bag. Ripped bags are acceptable and if sent from home may be rinsed clean. These are fused together and made into new products. These bags can also be put into the Lunchables collection box.
Many thanks to all the students and parents who have cooperated with the collection of these items. Keep up the good work!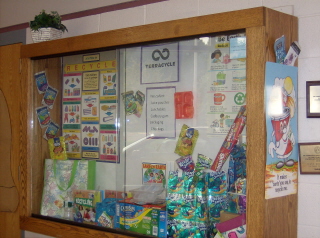 "Upcycle" display in the lobby

This is a one-of-a-kind prototype of a Target bag
pencil case made by Terracycle as seen on the
TV show Garbage Moguls on the National Geographic
Channel.
If you are wondering why DwellSmart always seems to be out of Capri Sun merchandise, here is their response:
DwellSmart wrote: "Hi Nancy. Congratulations on your brigade achievement! Very good! We are working on replenishing some of the more popular items, but we do have stock in almost all types of products but not always the type of drink pouch preferred. For example, we have a lot of Honest Kids and Frito Lay now but not as much Capri Sun. If there is a particular item, I can give you a better idea as to availability. TerraCycle is working new products into the production cycle to particularly use the pouches collected by brigades. All will go into new products but some of the new development cycles are taking a bit longer given the need to produce in bigger lots, etc."


Terracycle update

TerraCyle preparing our check!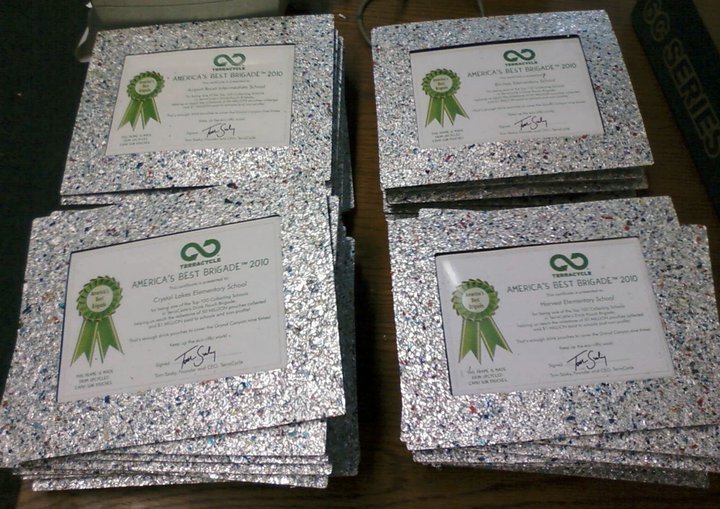 TerraCycle Juice Pouch Top 100 Brigade certificates
Maple Hill has been named one of the Top 100 Brigades by Terracyle and has been recognized with a special certificate in a frame made from (what else?) upcycled juice pouches. Check it out in the glass case in our lobby. To place in the top 100 out of over 46,000 Juice Pouch Brigades around the world is an amazing accomplishment! Thank you to all the students and teachers who have supported this program!
Don't forget to put only EMPTY pouches into the blue bin. If you cannot finish the juice, it is perfectly ok to throw the pouch into the garbage. This will keep all the other pouches in the bin clean and dry.
We continue to collect Lunchables tray in the cardboard box. Please put empty chip bags and cookie wrappers in the big yellow shopping bag.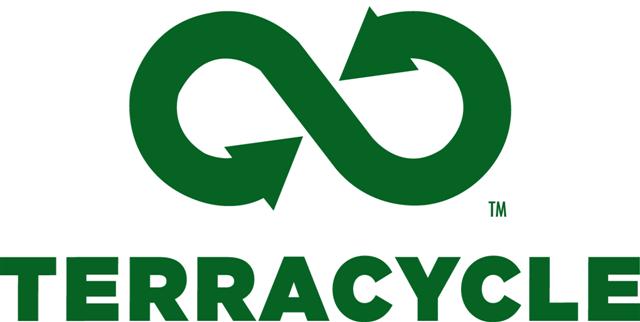 Message from Terracycle
Kraft Foods, Capri Sun, and Schools Rock the World with Eco-Love!
An e-mail from TerraCycle's PR department. A cute and bubbly, but professional, publicist wrote to me about the press release of their upcoming milestone celebrating the $1 million mark for schools that participated in Drink Pouch Brigade Sponsorship. Her co-worker coined the term eco-normous which is my new favorite word. It really is eco-normous!
Schools and nonprofits all over the nation participating in the program only has to save items from the landfill. This requirement is simple and monumental all at the same time! They were dedicated to the task of collecting and recycling for the TerraCycle program. This, in turn, earned them $1 million.
Emily Bradford, of the PR department, said, "We are quite excited about this and the main thing we plan to do is give a big THANK YOU to the top 100 schools that have collected the most for the Drink Pouch Brigade. We will be sending the schools a special certificate of recognition and a unique and specially made frame, made from shredded and compressed juice pouches, that will hold the certificate."
Maple Hill School is on this list of the TOP 100!!! Click here to read our story that we sent to Terracycle.
Drink Pouch Brigade
Get paid $0.02 each
3,865 locations

open
46,135 participating locations
Hello Brigaders!
You have helped us reach an incredible milestone! Thanks to your participation, TerraCycle® has collected more than 50 MILLION drink pouches and paid $1 MILLION to charities and non-profits. Together, the drink pouches would fill 480 football fields if laid side by side and would weigh the equivalent of 20 school buses.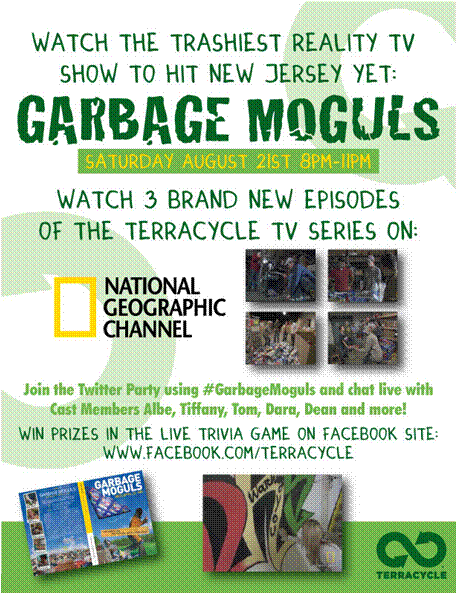 TerraCylce has some very exciting news to share with all of you. "Garbage Moguls",the trash-tastic reality show about TerraCycle, will be airing on the National Geographic Channel. Now you can get an inside look as the TerraCycle team faces new challenges and searches to find solutions for the world's waste in this comically captivating reality show. Follow the TerraCycle crew from landfills and dumpsters to the offices of the world's biggest corporations as they try to "Eliminate the IDEA of Waste"TM.
Where: The National Geographic Channel (check your local listings for exact channel and show times)